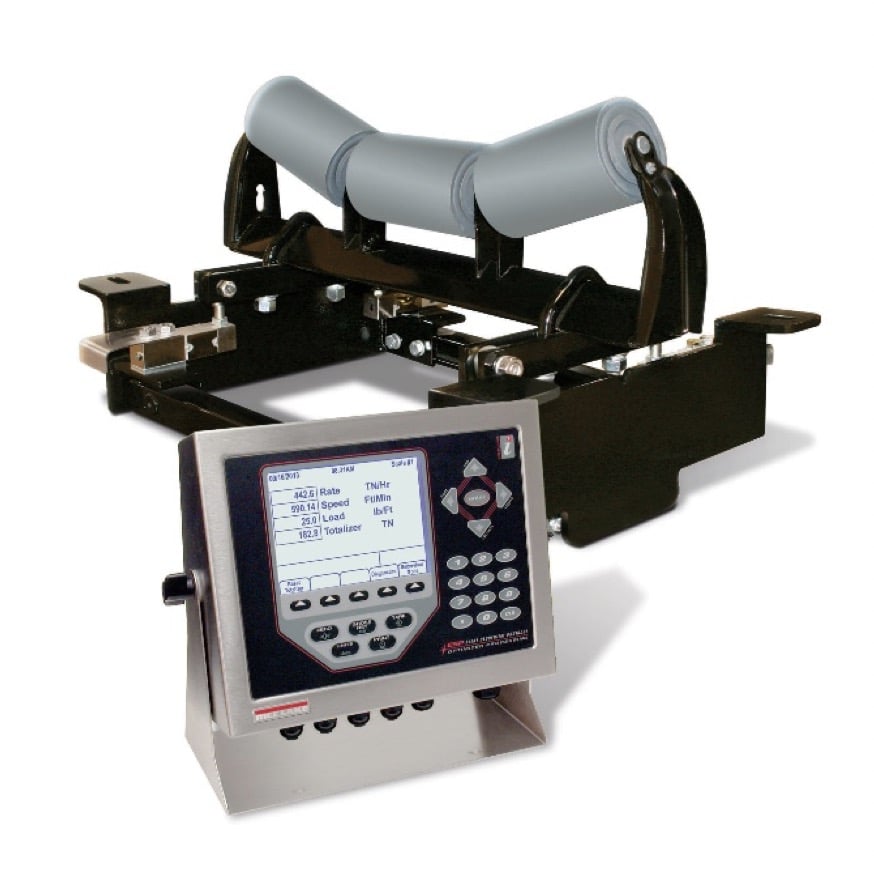 Move up to 10,000 tons of material per hour with the BCi In-Motion Belt Scale System. Driven by Rice Lake's powerful 920i indicator, the BCi system incorporates more control into your process than ever before.
Standard Features:
Large 4.6″W x 3.4″H 320 x 240 pixel back-lit LCD graphical display
NEMA 4X/IP66 stainless steel display enclosure
Four bidirectional communication ports
Rate and speed time displayed by the hour, minute or second
Measurement displayed in feet or meters
Unit of rate displayed in tons, pounds, kilograms, metric tons, or long tons
Digital I/O for totalizer
Analog outputs optional
Alarm outputs optional
For added security, integrator has the ability to be password protected
Available communication protocol cards include Rockwell Automation's DeviceNet™, Rockwell Automation's Remote I/O, Rockwell Automation's EtherNet IP™, Profibus® DP, 4-20mA analog output, Ethernet TCP/IP
Standard serial RS-232, RS-485, and 20mA current loop
Configurable ticket printing
Built in support for ticket printing
Belt-Way conveyor belt scales offer an easy solution to monitoring your production. Our system is an accurate and dependable industrial weighing device that can be installed onto virtually any belt conveyor. Our patented scale design is intended specifically for easy installation with accurate results! We offer a variety of conveyor belt scales designed to meet the accuracy you require.
Standard Features:
A large color easy to read screen
Quick access keys to simplify operation
USB Memory data logging allowing quick and easy access to data
Modbus over Ethernet
Power over  Ethernet for wireless communication
PID Loop and Blending Control